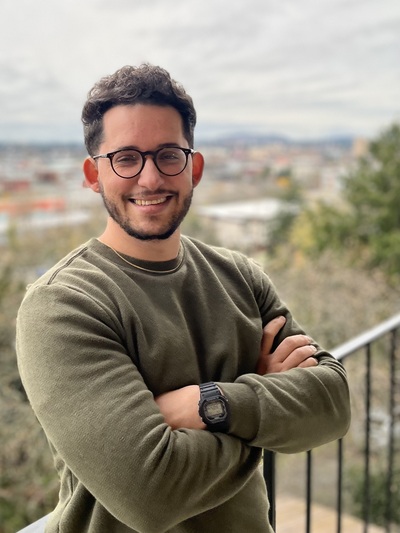 Julian Marcel Baldemira
Graduate Teaching Associate
Office Hours
By appointment.
Areas of Expertise
Indigenous & African Studies in the Americas
Visual Studies & Creative Writing
Comparative Luso-Hispanic Studies
Education
Ph.D., Latin American Cultural & Literary Studies, The Ohio State University, (in progress, 2023)
M.A., Latin American Cultural & Literary Studies The Ohio State University, 2020
B. A. Communications & Visual Studies, Universidad de las Tunas, Vladímir Illich Lenin, 2015
Creative Writing, Centro de Formación Literaria Onelio Jorge Cardoso, La Habana, Cuba, 2014
Julian Marcel Baldemira is a Ph.D. Candidate in the Latin American Literary & Cultural Studies Ph.D. program researching international expositions and world's fairs with a focus on race and visual cultures. His dissertation project, Breaking Imperial Showcases. Indigenous Resistance in the Human Exhibitions of Nineteenth-Century Brazil, interrogates how 19th-century international expositions influenced present-day ethnic stereotypes in Latin America and indigenous forms of resistance to the act of being displayed. This project was awarded the prestigious Fulbright-Hays Doctoral Dissertation Research Abroad (DDRA) Fellowship by the U.S. Department of Education and International and Foreign Language Education (IFLE) office in 2022. 

His first book, Nube oscura alrededor de la cabeza (2017, reprint 2019), won the prestigious XVII Premio Celestino de Cuentos, awarded by Editorial La Luz, Holguin, Cuba. The short stories in this book interrogate issues of gender, politics, and fear within totalitarian societies through characters often caught in the rarity of human connections.

In 2019 he received a Migration, Mobility and Immobility Grant for his current book project tentatively entitled "Dogs at the Border", which explores how the displacement of individuals influences their embodied experiences revealing the different faces of migration, whether voluntary or forced.

His current research centers on Cuban Studies, Monster Studies, Indigenous & African Studies in the Americas, and Latin American Photography. 
People Filters: