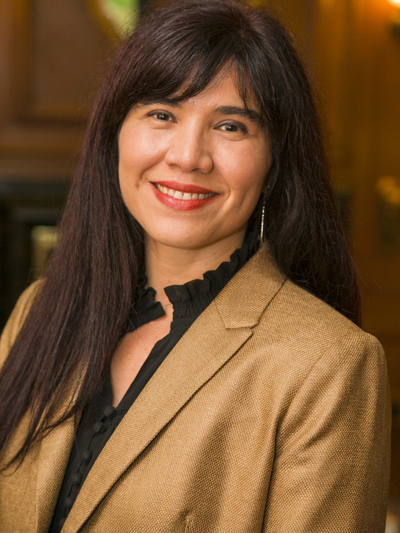 Elena Foulis
Coordinator, Service-Learning and Heritage Language
262 Hagerty Hall
1775 College Road
Columbus, OH
43210
Areas of Expertise
Latino Studies
Spanish language and Latin American Lit.
Service-Learning and Heritage Language
Education
Ph.D., in Comparative Literature and Cultural Studies, University of Arkansas, 2010
M.A. in Spanish and Latin American Literature and Culture, University of Arkansas, 2003
B.A., in Latin American Literature, The Ohio State University, 2000
Dr. Elena Foulis is a student-centered educator with over 15 years of experience in higher education. She holds B.A. and M.A. degrees in Spanish and Latin American Literature and a Ph.D. in Comparative Literature and Cultural Studies. Her research and teaching interests include U.S. Latina/o literature, and Digital Oral History. She currently teaches undergraduate courses in service-learning and Spanish for Heritage Speakers at OSU. Her articles explore Latin@ voices through oral history, oral history as participatory pedagogy in service-learning classrooms, identity and place through linguistic landscape and ethnography as a useful tool in advanced heritage language writing courses. Foulis is an engaged scholar and is committed to reaching non-academic and academic audiences through her writing, presentations and public humanities projects. She is also coordinator for the Spanish for Heritage Language program.
Dr. Foulis is working on a digital oral history project about Latin@s in Ohio, which is being archived at the Center for Folklore Studies' internet collection. 
SELECTED PUBLICATIONS:
Mi idioma, mi comunidad: español para bilingües. Ohio State University Pressbooks. 2019
"Weaving our Histories: Latin@ Ethnography in the Heritage Language Classroom." With Jennifer Barajas. Journal of Folklore and Education (2019: Vol. 6)
"Living into Immigrant Communities through Hospitality Practice: A Christian Ethical Approach to Community Service Learning." With Glenn Martinez. Journal of Christianity and World Languages. April 2019.
"Participatory Pedagogy: Oral History in the Service-Learning Classroom." Journal of Higher Education Outreach and Engagement. September 2018. 
"Oral History in the Digital Era: Oral Narratives of Latin@s in Ohio." Public, Journal of Imagining America. January 2018.
"Historias: Latin@ Voices in Ohio." Alter/nativas, Latin American Cultural Studies Journal. Fall 2017.
"Teaching Cristina Garcia's novels." In Latino/a Literature in the Classroom. Twenty-first-century approaches to teaching. Frederick Luis Aldama, Editor. Routledge. 2015
Latin@ Stories Across Ohio. iBook publication. Ohio State University Digital Publications. 2015
MULTIMEDIA PROJECTS
Ohio Habla Podcast. The Ohio State University. 
Oral History project, Oral Narratives of Latin@s in Ohio. Video-narrative. Collection housed in the Center for Folklore Studies at The Ohio State University.
BOOK REVIEWS
Delgadillo, Theresa. Latina Lives in Milwaukee. Latinos in Chicago and Midwest Series. Urbana: University of IllinoisPress, 2015. H-Net Reviews in the Humanities & Social Sciences, Sep 2017, p1
Lozano, Adele, Editor. Latina/o College Student Leadership: Emerging Theory, Promising Practice. Lexington Books, 2015. Journal of Latinos & Education, Apr-Jun2017, Vol. 16 Issue 2, p167
Hinojosa, Felipe. Latino Mennonites: Civil Rights, Faith & Evangelical Culture. Baltimore: Johns Hopkins University Press, 2014; 297 RMMLA Journal. Volume 69, Number 2, Fall 2015.
Ontiveros, Randy. In The Spirit of the People: The Cultural Politics of the Chicano Movement. New York: New York University Press, 2013. 241p. Journal of Latinos & Education, Jul-Sep2015, Vol. 14 Issue 3, p220
COURSES TAUGHT
SPAN 5689S:  Spanish in Ohio
SPAN 4603:  Advanced Spanish Composition
SPAN 3450 (H):  Introduction to the Study of Literature and Culture 
SPAN 3403:  Intermediate Spanish Composition
SPAN 3413:  Spanish for Heritage Speakers
SPAN 3406:  Business Culture and Communication I
SPAN 2520:  Latin American Literature (in Translation): Fictions and Realities
SPAN 2506:  Latin American Culture in a Business Context
SPAN 2367S:  The US Experience: Hispanics, Language, and Literacy