---
Undergraduate Experiences
Maria Chabali
Honors Double Major in Spanish and Political Science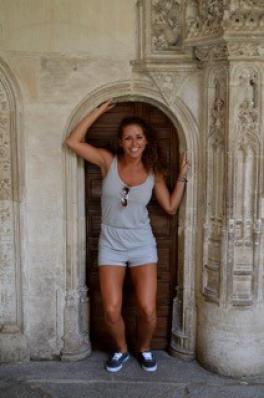 What motivated you to pursue a degree in Spanish? How do you plan to use your degree in Spanish to compliment your major in Political Science?
I was motivated to pursue a degree in Spanish because I've been speaking it all my life with my Cuban-born father and his side of the family. My Abuelita taught me to speak Spanish with workbooks and everything from the time I could talk, but I lost a lot of it after she passed away when I was 8. Being a Spanish major at OSU has brought all of it back and sharpened my Spanish skills immensely. Pairing this with a major in Political Science should give me an advantage in getting into law school and using it some day in a foreign affairs/international law setting.
What has been most helpful to you in planning your degree? Was it hard to complete an honors double major and plan for Law school?
I couldn't have planned my degree without the help from my 3 advisors! It wasn't always convenient having to go back and forth from my Spanish advisor to my Political Science advisor to my Honors advisor, but having a solid Honors contract as a base helped a lot. Completing a double major has been surprisingly very low-stress. I got pretty ahead in my Spanish major to begin with and am able to graduate a semester early which will be a nice break before starting Law school.
What were two of your high points in studying Spanish at OSU?
Two of my high points in studying Spanish at OSU have been making friends in my major and having multiple classes with the same people and studying abroad! The first is something I've come to take for granted. Having classes with the same people has allowed us to form a community and be more comfortable speaking a foreign language with each other and help us improve our skills. Studying abroad really put my skills to the test and made me realize how far I've come since visiting Spain in high school.
Did you study abroad, or did you take Spanish in Ohio? What was your experience?
Like I said, I studied abroad in Madrid, Spain last summer and it was the greatest month of my life. I had been to Spain before in high school, but only for a week and this experience solidified my desire to return. I remember being there as a 16 year-old and having to think so hard about my Spanish and it leaving me exhausted. Going back this past summer, I noticed a huge difference and speaking Spanish was second nature. I got to see more of Spain this time, traveling to Toledo and Valencia and spending time in Gandía with some Spaniards I met during my first trip to Spain. I love the culture Spain has to offer and hope to live there someday! I was also lucky enough to be able to travel to France and the Netherlands, inspiring me to maybe try to learn French or Dutch in the future!
---
Kenneth Farmer
Dual degree in Spanish and Business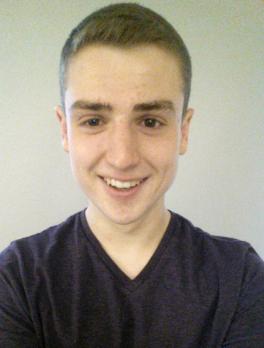 What motivated you to pursue a degree in Spanish? How do you plan to use your degree in Spanish to compliment your degree from Fisher?

I chose to major in Spanish simply because I had a real, honest passion for learning the language. I wanted my future career to utilize my knowledge of Spanish. Bilingualism can be a powerful asset to any company hoping to reach into international markets. In addition to the business skills I learn in Fisher, I hope to be that bilingual asset for a company one day.

What has been most helpful to you in planning your dual degree? What advice would you give others looking to complete a dual degree program?

Face to face appointments with your advisors are the most helpful resources for completing a dual degree. When you venture into pursuing a dual-degree, you will be assigned 2 different advisors from the different colleges where you're earning credit. It is imperative that you keep in contact with BOTH advisors. One advisor is not going to know enough about the other college to help you plan your degrees.

What is your favorite thing about studying Spanish at OSU?

In addition to the interesting course content, I have loved the opportunity to develop relationships with my language professors. These relationships have allowed me to build professional connections with people in the College of Arts and Sciences and continue to have many opportunities to speak in Spanish with actual native speakers.

Why is study abroad important to you? What are you looking forward to most about your experience abroad?

Studying abroad provides OSU students with a unique opportunity to significantly improve their language skills and truly understand the culture in that particular country. I will be traveling to Spain this summer. I am looking forward to meeting new people, learning Spain's culture, and the opportunity to practice the Spanish language in an effort to one day speak the language at a fluent level.
---
Alumni Experiences
Anna Lieswyn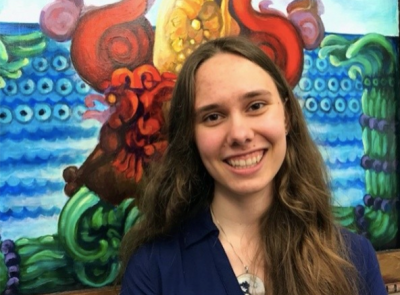 Double Major in Spanish and Comparative Cultural Studies with a Minor in Latino/a Studies.
Anna graduated from OSU in 2017. She had originally planned to major in science, but she discovered that her Spanish class was her happy place. Learning about the culture of Spanish speakers was a natural next step for her. "It made sense: I speak Spanish, so I should learn about the culture of those who speak it." During a 3-month long study abroad in 2015, she worked for four weeks as a teaching assistant in Chile. It was then that she discovered her love for teaching English, which led to her volunteering at the Columbus Literacy Council during her last year at OSU. 
After being awarded a prestigious Fulbright English Teaching Assistantship, Anna works as an instructor of English in Santiago de Compostela in Galicia, an autonomous region of Spain. She was able to continue teaching in public schools even after her year-long Fulbright program ended. Now, she works full-time at a private language academy. "I love learning Galician!" says Anna, who also speaks Portuguese and has started to learn Mandarin.
Her advice for current OSU students? "Take advantage of everything, and don't be afraid to apply for anything!"
---
JM Rayburn
Dual Degree in Portuguese and International Studies, M.A. in City & Regional Planning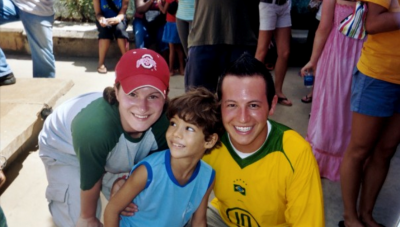 10 years ago, as a freshman and International Affairs Scholar at The Ohio State University, I went on a life-changing trip to Brazil. I fell in love with the people, music, food, history and language so much so that I pivoted my studies to Portuguese and International Studies with a focus on Latin American business and economics. From there I lived abroad in Curitiba (where bus rapid transit was invented) and presented my senior thesis in Portuguese at the University of São Paulo on the 19th century urbanization of Rio de Janeiro.
Spoiler alert, I decided the best way to change the world was to start with my city. Fast forward 10 years later and I'm an urban planner eternally grateful for my experiences that led me here and more determined than ever to contribute to a better future.

JM is currently in the community working on:
1. Columbus Green Team, Chair of the Built Environment & Transportation Infrastructure Working Group
2. Commissioner, Victorian Village Commission
3. SmartColumbus Electric Vehicle Charging Infrastructure Working Group
4. COTA's NextGen Project Advisory Group
5. Co-host of the Out for Good Podcast on TrueFM Online Radio
6. Board member, Transit Columbus
7. Treasurer, Ohio APA Central Ohio Section
8. Organizer, Open Street Columbus
9. Project Manager of Forge Ahead, Forge Columbus
10. Founding member and President Emeritus of the Godman Guild Emerging Leaders

Return to Top