Frederick Aldama
Arts & Humanities Distinguished Professor
Frederick Luis Aldama is Arts and Humanities Distinguished Professor of English at The Ohio State University, United States, where he teaches Latino/a and Latin American post-colonial literature, film, and comics, as well as narrative theory and cognitive science approaches to culture. He is editor and author of nineteen book. He is founder and director of L.A.S.E.R/Latino and Latin American Space for Enrichment Research.
Along with Patrick Colm Hogan and Arturo Aldama, he is the series editor of Cognitive Approaches to Literature and Culture with the University of Texas Press. [2] He coedits the World Comics and Graphic Nonfiction series with the University of Texas Press. He edits the Contemporary Latino Writers and Directors series with the Ohio State University Press [3] He sits on the executive council of the International Society for the Study of Narrative [4] and on the editorial boards for journals such as Narrative [5] and the Journal of Narrative Theory [6], and is a member of the standing board for the Oxford Bibliographies in Latino Studies [7]
Aldama's articles, reviews, and interviews have appeared in such journals as Aztlán, College Literature, Poets & Writers, World Literature Today, Cross Cultural Poetics, Lit: Literature Interpretation Theory, Lucero, Comparative Literature, The Callaloo Journal, Nepantla, Journal of Interdisciplinary Literary Analysis, American Literature, Latin American Research Review, Modern Fiction Studies, Modern Drama, SubStance, Style, ImageTexT and Fox News Latino.
Postethnic Narrative Criticism (University of Texas Press, 2003)
Arturo Islas: The Uncollected Works (Arte Público Press, 2003)
Dancing With Ghosts: A Critical Biography of Arturo Islas (University of California Press, 2004)
Brown on Brown: Chicano/a Representations of Gender, Sexuality and Ethnicity (University of Texas Press, 2005)
Critical Mappings of Arturo Islas's Narrative Fictions (University of Texas Press, 2005)
Spilling the Beans in Chicanolandia: Conversations with Artists and Writers (University of Texas Press, 2006)
Why the Humanities Matter: A Common Sense Approach (University of Texas Press, 2008)
Your Brain On Latino Comics: From Gus Arriola to Los Bros Hernandez" (University of Texas Press, 2008)
A User's Guide to Postcolonial and Latino Borderland Fiction (University of Texas Press, 2009)
Multicultural Comics: From Zap to Blue Beetle (University of Texas Press, 2010)
Toward a Cognitive Theory of Narrative Acts (University of Texas Press, 2010)
Analyzing World Fiction: New Horizons in Narrative Theory (University of Texas Press, 2011)
The Routledge Concise History of Latino/a Literature (Routledge, 2012)
Mex-Ciné: Mexican Filmmaking, Production, and Consumption in the 21st-Century (University of Michigan Press, 2013)

Latinos in Narrative Media: Participation and Portrayal ([10], 2013)

¡Muy Pop! Conversations on Latino Popular Culture. Co-authored with Ilan Stavans ([11], 2013)

Latinos in the End Zone: Conversations on the Brown Color Line in the NFL. Co-authored with Christopher González ([12], 2013)

Conversations on Cognitive Cultural Studies: Literature, Language, Aesthetics. Co-authored with Patrick Colm Hogan ([13], 2014)
Several additional books are scheduled to appear in 2014 and 2015, including a single director study of Robert Rodriguez and volume of essays on director Robert Rodriguez for the University of Texas Press, a volume of essays on teaching Latino literature for Routledge, and a coedited volume of essays on Latino comics for OSU Press.
Areas of Expertise
Cognitive Approaches to Culture
Narrative Theory
Latino Studies
Education
BA Summa cum laude in English. The University of California, Berkeley, 1992
Ph.D. Stanford University, 1999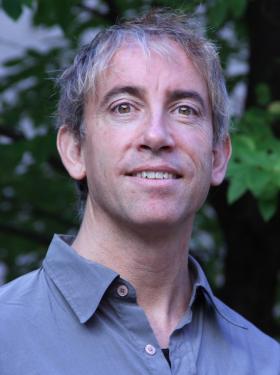 249 Hagerty Hall
1775 College Road
Columbus, OH 43210
Cell Phone:
510 367-9112
Office Hours:
By appointment