Annual Symposium
---
The 17th Annual Hispanic & Lusophone Studies Symposium
GLOBALIZING DISCOURSES IN LUSO-HISPANIC CONTEXTS
Keynote Speakers: Jean Franco, Columbia University, Pedro Sepúlveda, from the Universidade Nova de Lisboa
April 11 - 12, 2014

Call for Papers
This call for papers seeks paper or panel submissions related to globalizing discourses in Luso-Hispanic contexts. From the birth of early modern empires and their medieval precursors to the development of neo-liberal nation states, globalization has been a driving force behind society, economics, and politics; with the exchange of goods and capital comes the inevitable encounter between cultures and, whether cooperative or antagonistic, the mutual influence that blurs the lines between them.
The aim of the symposium is to unite various vantage points from which to view the role of globalization in the intersection of Luso-Hispanic cultures with the rest of the world in order to promote a critical, cross-disciplinary network of scholarship. How has technology shaped the power of discourse? How can we see the multidirectional flow of knowledge and culture through the process of globalization? Where and why are these exchanges asymmetrical? What types of patterns, anomalies or problems emerge within these contact zones? Which contemporary theoretical approaches could benefit from studying globalizing discourses that span the Luso-Hispanic speaking world? These are only a few possible questions to consider as participants prepare submissions for this symposium. As a reflection of this topic, papers that venture beyond the traditional dichotomy of Latin American/Peninsular or Hispanic/Luso-Brazilian studies are welcome and encouraged, as well as submissions from disciplines other than Luso-Hispanic Literatures and Cultures.

Abstracts
Please submit abstracts/proposals by March 1, 2014.
Abstracts should range between 200-250 words and include your name and academic affiliation. Please also indicate the language in which you will present your paper and your email address.
Conference Fees
For accepted presenters is $35 Graduate Students, $50 Faculty
Early registration fee is $25 Graduate Students, $40 Faculty, if submitted by March 7th, 2014
Organizers
For any questions or concerns, please contact the symposium organizers:
---
OSU Congress on Hispanic and Lusophone Linguistics (OSUCHiLL)
Keynote Speakers: Gregory Guy, Norma Mendoza-Denton, Ana Celia Zentella, Otto Santa Ana
April 11-12, 2014
General Info
OSUCHiLL is one of the premier conferences on Hispanic and Lusophone Linguistics United States. The conference, organized entirely by graduate students, aims to bring together a wide variety of scholars working within many distinct disciplines and subdisciplines and on many different aspects of language. This year's conference, in addition to dozens of short research presentations, includes a plenary address by Dr. Gregory Guy of NYU, entitled "SocioCHiLL: Sociolinguistic cohesion in Hispanic and Lusophone language varieties", as well as a special interdisciplinary panel discussion on the sociolinguistics of Spanish in the U.S., featuring distinguished researchers Dr. Ana Celia Zentella, Dr. Norma Mendoza-Denton, and Dr. Otto Santa Ana. We are delighted to welcome you to join us on April 11th and 12th in Columbus, Ohio.
Conference Information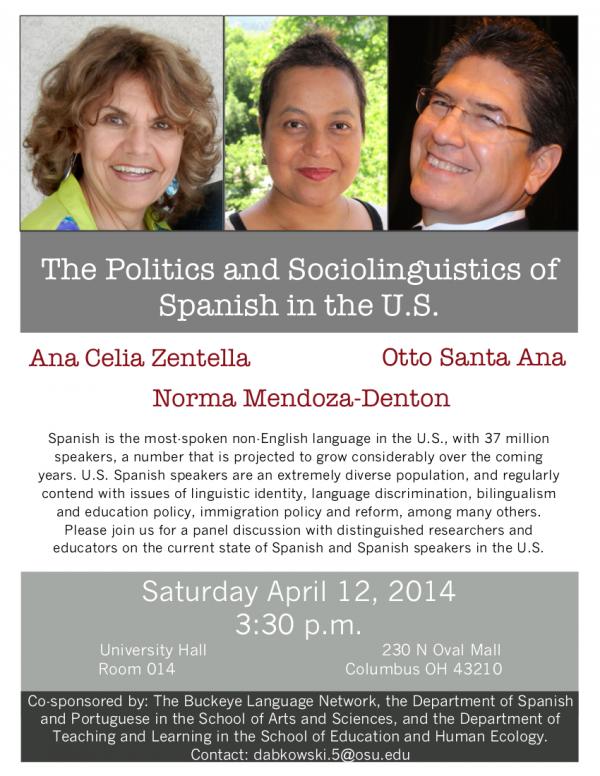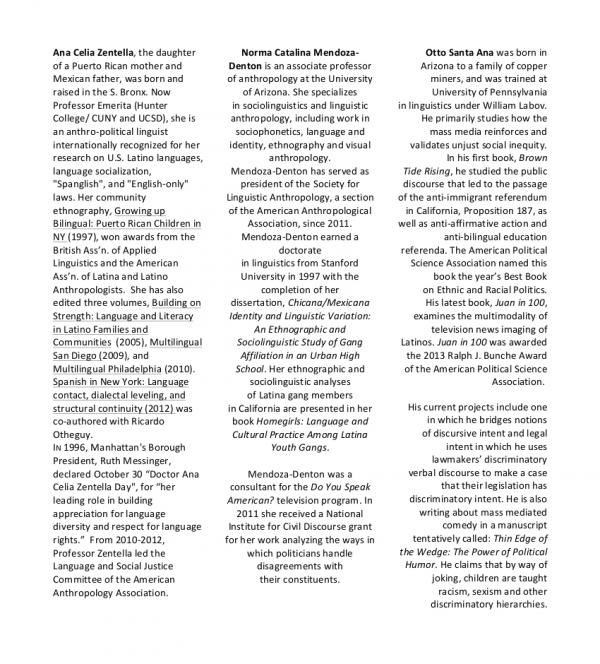 Conference Fees

For accepted presenters is $35 Graduate Students, $50 Faculty
For more info, see registration form.
Organizers
*Note: PDF files require the use of Adobe Acrobat Reader software to open them. If you do not have Reader, use the following link to download it for free: Adobe Acrobat Reader.