Image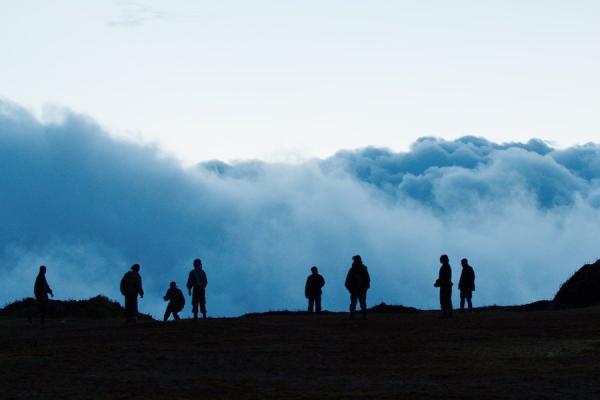 March 23, 2023
6:00PM - 9:00PM
Location
Hagerty Hall 180
Date Range
Add to Calendar
2023-03-23 17:00:00
2023-03-23 20:00:00
Film Screening: Monos (2019, Colombia)
Subjetividades en ambientes conflictivos en América Latina   Synopsis: A crossroad between Apocalypse Now, Lord of the Flies, and Embrace of the Serpent, Alejandro Landes's Monos tracks a young group of soldiers and rebels who run wild in the mountains of an unspecified South American country, while keeping watch over an American hostage, Doctora. The teenage commandos perform military training exercises by day and indulge in youthful hedonism by night, an unconventional family bound together under a shadowy force known only as The Organization. After an ambush drives the squadron into the jungle, both the mission and the intricate bonds between the group begin to disintegrate. Order descends into chaos and, within Monos, the strong begin to prey on the weak in this vivid, cautionary fever-dream. In his awe-inspiring third feature, Landes examines the chaos and absurdity of war from the unique perspective of adolescence in a way that feels wholly original, thrusting his diverse young cast into an unforgiving, irrational, and often surreal environment where anything can happen — even peace. The film's sense of surreal menace is amplified by Mica Levi's discordant soundscape and Jasper Wolf's cinematography. Languages: Spanish, with English subtitles View a study/discussion guide for the film, made available by Pragda.  Trailer and poster:     Sponsors The Spanish Film Club series was made possible with the support of Pragda, and the Embassy of Spain in Washington DC, Spain-USA Foundation. Special thanks to the Secretary of State for Culture of Spain. [taken from Pragda website; all film pages need to match this wording] Additional co-sponsors include:  The Center for Latin American Studies, the Department of Spanish and Portuguese, the Center for Ethnic Studies, the Department of History, the Department of Theater, Film, and Media Arts 
Hagerty Hall 180
OSU ASC Drupal 8
ascwebservices@osu.edu
America/New_York
public
Date Range
Add to Calendar
2023-03-23 18:00:00
2023-03-23 21:00:00
Film Screening: Monos (2019, Colombia)
Subjetividades en ambientes conflictivos en América Latina   Synopsis: A crossroad between Apocalypse Now, Lord of the Flies, and Embrace of the Serpent, Alejandro Landes's Monos tracks a young group of soldiers and rebels who run wild in the mountains of an unspecified South American country, while keeping watch over an American hostage, Doctora. The teenage commandos perform military training exercises by day and indulge in youthful hedonism by night, an unconventional family bound together under a shadowy force known only as The Organization. After an ambush drives the squadron into the jungle, both the mission and the intricate bonds between the group begin to disintegrate. Order descends into chaos and, within Monos, the strong begin to prey on the weak in this vivid, cautionary fever-dream. In his awe-inspiring third feature, Landes examines the chaos and absurdity of war from the unique perspective of adolescence in a way that feels wholly original, thrusting his diverse young cast into an unforgiving, irrational, and often surreal environment where anything can happen — even peace. The film's sense of surreal menace is amplified by Mica Levi's discordant soundscape and Jasper Wolf's cinematography. Languages: Spanish, with English subtitles View a study/discussion guide for the film, made available by Pragda.  Trailer and poster:     Sponsors The Spanish Film Club series was made possible with the support of Pragda, and the Embassy of Spain in Washington DC, Spain-USA Foundation. Special thanks to the Secretary of State for Culture of Spain. [taken from Pragda website; all film pages need to match this wording] Additional co-sponsors include:  The Center for Latin American Studies, the Department of Spanish and Portuguese, the Center for Ethnic Studies, the Department of History, the Department of Theater, Film, and Media Arts 
Hagerty Hall 180
Spanish & Portuguese
spanport@osu.edu
America/New_York
public
Description
Subjetividades en ambientes conflictivos en América Latina
Synopsis:
A crossroad between Apocalypse Now, Lord of the Flies, and Embrace of the Serpent, Alejandro Landes's Monos tracks a young group of soldiers and rebels who run wild in the mountains of an unspecified South American country, while keeping watch over an American hostage, Doctora.
The teenage commandos perform military training exercises by day and indulge in youthful hedonism by night, an unconventional family bound together under a shadowy force known only as The Organization. After an ambush drives the squadron into the jungle, both the mission and the intricate bonds between the group begin to disintegrate. Order descends into chaos and, within Monos, the strong begin to prey on the weak in this vivid, cautionary fever-dream.
In his awe-inspiring third feature, Landes examines the chaos and absurdity of war from the unique perspective of adolescence in a way that feels wholly original, thrusting his diverse young cast into an unforgiving, irrational, and often surreal environment where anything can happen — even peace. The film's sense of surreal menace is amplified by Mica Levi's discordant soundscape and Jasper Wolf's cinematography.
Languages: Spanish, with English subtitles
View a study/discussion guide for the film, made available by Pragda. 
Trailer and poster: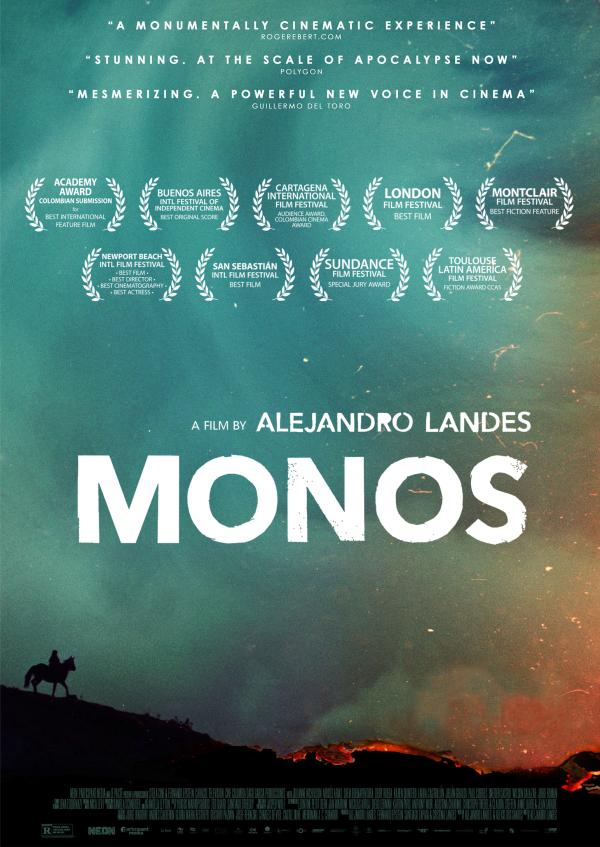 ---
Sponsors
The Spanish Film Club series was made possible with the support of Pragda, and the Embassy of Spain in Washington DC, Spain-USA Foundation. Special thanks to the Secretary of State for Culture of Spain. [taken from Pragda website; all film pages need to match this wording]
Additional co-sponsors include: 
The Center for Latin American Studies, the Department of Spanish and Portuguese, the Center for Ethnic Studies, the Department of History, the Department of Theater, Film, and Media Arts 
---