Image
March 30, 2023
6:00PM - 9:00PM
Location
Hagerty Hall 180
Date Range
Add to Calendar
2023-03-30 17:00:00
2023-03-30 20:00:00
Film Screening: Yvy maraey, land without evil (2013, Bolivia)
Subjetividades en ambientes conflictivos en América Latina Synopsis: A Bolivian filmmaker and a Guaraní Indian travel together through the forests of southeastern Bolivia to make a film about the Guaraní people. The starting point is a 1911 film by Swedish explorer Erland Nordenskiöld. But today's reality turns out to be much more intense than the nostalgia for a lost world. In Yvy Maraey, the white man (the director) and the Indian create and interpret their own characters, walking the thin line between documentary, fiction, and performance. Far from observing another culture, we are watched and questioned about our identity in a country undergoing enormous social, political, and historical change as it struggles to create an intercultural society. Yvy Maraey is a quest for the knowledge within, seen through the eyes of the other. Here learning comes from another form of seeing—listening. The film combines reality with the epic tale of a heroic indigenous nation. Languages: Spanish and Guaraní, with English subtitles Trailer and Poster:       Sponsors The Spanish Film Club series was made possible with the support of Pragda, and the Embassy of Spain in Washington DC, Spain-USA Foundation. Special thanks to the Secretary of State for Culture of Spain. Additional co-sponsors include:  The Center for Latin American Studies, the Department of Spanish and Portuguese, the Center for Ethnic Studies, the Department of History, the Department of Theater, Film, and Media Arts 
Hagerty Hall 180
OSU ASC Drupal 8
ascwebservices@osu.edu
America/New_York
public
Date Range
Add to Calendar
2023-03-30 18:00:00
2023-03-30 21:00:00
Film Screening: Yvy maraey, land without evil (2013, Bolivia)
Subjetividades en ambientes conflictivos en América Latina Synopsis: A Bolivian filmmaker and a Guaraní Indian travel together through the forests of southeastern Bolivia to make a film about the Guaraní people. The starting point is a 1911 film by Swedish explorer Erland Nordenskiöld. But today's reality turns out to be much more intense than the nostalgia for a lost world. In Yvy Maraey, the white man (the director) and the Indian create and interpret their own characters, walking the thin line between documentary, fiction, and performance. Far from observing another culture, we are watched and questioned about our identity in a country undergoing enormous social, political, and historical change as it struggles to create an intercultural society. Yvy Maraey is a quest for the knowledge within, seen through the eyes of the other. Here learning comes from another form of seeing—listening. The film combines reality with the epic tale of a heroic indigenous nation. Languages: Spanish and Guaraní, with English subtitles Trailer and Poster:       Sponsors The Spanish Film Club series was made possible with the support of Pragda, and the Embassy of Spain in Washington DC, Spain-USA Foundation. Special thanks to the Secretary of State for Culture of Spain. Additional co-sponsors include:  The Center for Latin American Studies, the Department of Spanish and Portuguese, the Center for Ethnic Studies, the Department of History, the Department of Theater, Film, and Media Arts 
Hagerty Hall 180
Spanish & Portuguese
spanport@osu.edu
America/New_York
public
Description
Subjetividades en ambientes conflictivos en América Latina
Synopsis:
A Bolivian filmmaker and a Guaraní Indian travel together through the forests of southeastern Bolivia to make a film about the Guaraní people. The starting point is a 1911 film by Swedish explorer Erland Nordenskiöld. But today's reality turns out to be much more intense than the nostalgia for a lost world. In Yvy Maraey, the white man (the director) and the Indian create and interpret their own characters, walking the thin line between documentary, fiction, and performance. Far from observing another culture, we are watched and questioned about our identity in a country undergoing enormous social, political, and historical change as it struggles to create an intercultural society. Yvy Maraey is a quest for the knowledge within, seen through the eyes of the other. Here learning comes from another form of seeing—listening. The film combines reality with the epic tale of a heroic indigenous nation.
Languages: Spanish and Guaraní, with English subtitles
Trailer and Poster: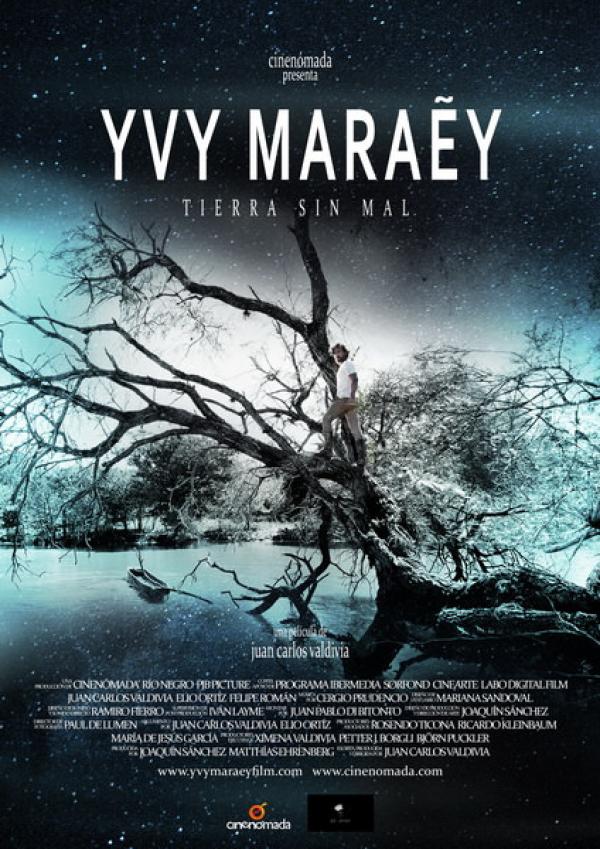 ---
Sponsors
The Spanish Film Club series was made possible with the support of Pragda, and the Embassy of Spain in Washington DC, Spain-USA Foundation. Special thanks to the Secretary of State for Culture of Spain.
Additional co-sponsors include: 
The Center for Latin American Studies, the Department of Spanish and Portuguese, the Center for Ethnic Studies, the Department of History, the Department of Theater, Film, and Media Arts 
---