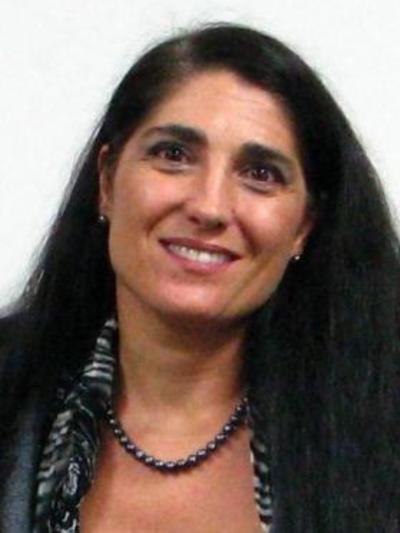 Ana Del Sarto
Associate Professor Literatures and Cultures of Latin America
242 Hagerty Hall
1775 College Road
Columbus, OH
43210
Areas of Expertise
Cultural and Critical Theories
Southern Cone literatures and cultures
Latin American cultural studies
Education
Ph.D., The Ohio State University, Columbus, OH
M.A., Spanish, Ohio University, Athens, OH
M.A., International Affairs, Ohio University, Athens, OH
Licenciatura en Relaciones Internacionales, Universidad Nacional de Rosario, Argentina
Editor alter/nativas, revista de estudios culturales latinoamericanos

Prof. Del Sarto´s areas of specialization include Latin American Cultural
Studies, Literary, Cultural and Critical Theories, Ethnic and Gender Studies,
Identities and Subject Formations, Comparative Studies of Lusophone and
Hispanic Latin America, Globalization Studies, and Southern Cone Narratives.

Among her recent publications are Los estudios culturales latinoamericanos
hacia el siglo XXI, co-edited with Alicia Ríos and Abril Trigo for a
especial issue of Revista Iberoamericana and The Latin American Cultural
Studies Reader, co-edited also with Alicia Ríos and Abril Trigo from Duke
University Press. She has also published articles on Latin American
discourses on criticism (literary criticism, cultural critique, cultural
studies), on the interdisciplinary relations between the Humanities and the
Social Sciences, on contemporary Latin American women narrative, and on Latin
American cinema. Her book, Sospecha y goce: una genealogía de la crítica
cultural chilena, was published through Cuarto Propio, Santiago de Chile, in
2010. Currently she is working on a book manuscript tentatively titled
Irreverent Passions: On Bodies and Subjectivities, focused on Chilean writer
Diamela Eltit, addressing the issues of female bodies, subjectivities, and
violence.
Research interests
Bodies and Subjectivities
Cultural theories and analysis
Modernity and Coloniality
Latin American Intellectuals: power, cultures and societies
Ethnic, Race, and Gender studies

COURSES TAUGHT:
Graduate
Latin American Cultural Studies
Bodies and Subjectivities in Contemporary Latin American Cultures
Passions: Blueprint of (Dis)-Enchantment
Subjectivities in Disarray: Contemporary Women's Narratives from the
Southern Cone
Latin American Cognitive Mapping: Modernidad/Postmodernidad
Intro to Literary and Cultural Theories

Undergraduate
Miedos y placeres: Memorias en/de la América Latina global
Globalización, violencia y género en Ciudad Juárez
Los rostros de la violencia en América Latina
Globalization and Latin America: Multidisciplinary Approaches
Sueños y pesadillas en la América Latina global
Representación de sujetos marginales en las culturas latinoamericanas
Memoria y deseo en la cultura contemporánea latinoamericana
Culturas contemporáneas latinaomericanas
Latin American Literature (in Translation): Fiction and Realities. Between
the Fantastic, the Marvelous Real, and Magical Realism
People Filters: