October 8, 2021
Andean and Amazonian Indigenous Art & Cultural Artifacts Collection TUKUYPAQ: Open House
Image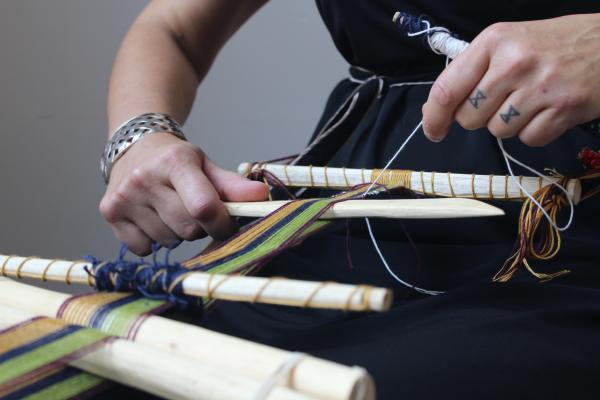 Description
Student curators of Ohio State University's Kawsay Ukhunchay Andean and Amazonian Indigenous Art & Cultural Artifacts Research Collection held an Open House from 1 to 6 PM this past Tuesday, October 5th. The Open House took place in Hagerty Hall 255 and Hagerty Hall Courtyard. Student curators were on-hand to answer questions, lead tours, offer hands-on workshops, demonstrate digital interactive features, and facilitate a collaborative community project. 
The Andean and Amazonian Indigenous Art and Cultural Artifacts Collection is a unique research, teaching and outreach resource at The Ohio State University. Its mission centers on highlighting material cultural production, oral traditions and performance practices as key sites of Andean and Amazonian Indigenous knowledge, memory and meaning making. Dr. Michelle Wibbelsman, lead Faculty Curator, along with the collection's student curators collaborate with educators, researchers, students and Indigenous artists to create accessible, inclusive, collaborative and engaging learning spaces for a broader appreciation of Indigenous knowledges. The curators' work with the collection is guided by principles of ethical intellectual and creative intercultural exchange; interdisciplinary collaboration; knowledge equity, accessibility and production of shareable resources; and attention to issues of cultural and ethnic representation, participation, and involvement.
This research collection, established in 2015 with the Center for Latin American Studies Title VI NRC funds, is housed in the Department of Spanish and Portuguese and supported through a private donation to the Ohio State University from Norman E. Whitten. It affirms Ohio State's commitment to the study of and critical engagement with Indigenous cultures.
Further information about this event and the collection can be found here.
---