May 12, 2020
Book Review of Dr. Frederick Luis Aldama's "The Adventures of Chupacabra Charlie" Featured on Latinxs in Kid Lit Website
Image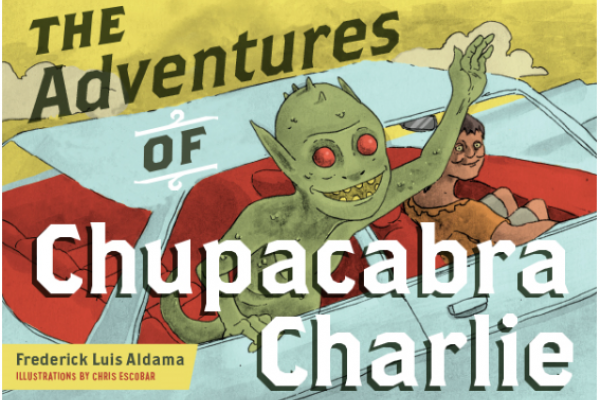 Description
OSU Department of Spanish and Portuguese Professor, Dr. Frederick Luis Aldama, and illustrator, Chris Escobar, have published their debut picture book, The Adventures of Chupacabra Charlie. The Ohio State Press summarizes that the book, "invites young readers along on the adventures of Chupacabra Charlie, a polite, handsome, and unusually tall ten-year-old chupacabra yearning for adventure beyond the edge of los Estados Unidos. Little does Charlie know when he befriends a young human, Lupe, that together, with only some leftover bacon quesadillas and a few cans of Jumex, they might just encounter more adventure than they can handle. Along the way, they meet strange people and terrifying danger, and their bravery will be put to the test. Thankfully, Charlie is a reassuring and winsome companion who never doubts that he and Lupe will return safely home.
With magical realism, allegory, and gentle humor, Aldama and Escobar have created a story that will resonate with young and old readers alike as it incorporates folklore into its subtle take on the current humanitarian crisis at the border."
OSU Department of Spanish and Portuguese Senior Lecturer, Dr. Elena Foulis, reviewed The Adventures of Chupacabra Charlie on the Latinxs in Kid Lit website. You can read her review here.
---