April 6, 2023
Capoeira in the Classroom series takes Afro-Brazilian culture to local schools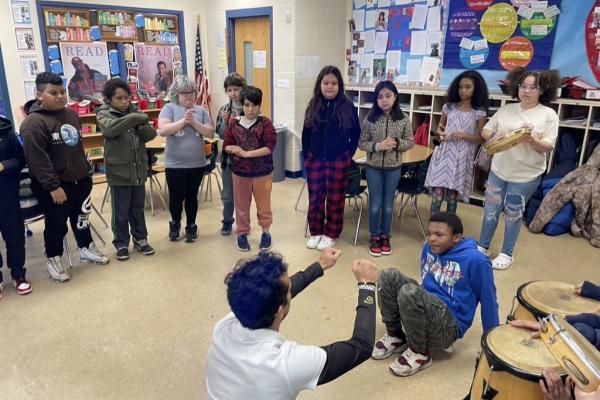 Developed from a collaboration between the Department of Spanish and Portuguese (SPPO) and the Center for Latin American Studies (CLAS), the Capoeira in the Classroom series introduces local K-12 students to capoeira, an Afro-Brazilian art form that combines music, singing, movement, martial arts, and acrobatics, as well as history and culture. The workshop was created and is led by Leila Vieira, Portuguese language coordinator, and Julio Beltrán Tapia, CLAS administrative assistant.
Teaching capoeira to students serves as a gateway to get the local community interested in Brazilian culture and Portuguese language in general. Additionally, introducing an Afro-Brazilian practice into local schools in the U.S. fosters diversity and brings to the fore cultural practices and perspectives of historically marginalized and minoritized populations.
Up until the end of March, Vieira and Beltrán Tapia have done 14 visits to 7 schools, reaching nearly 250 students. To establish a more meaningful connection with students and teachers, Vieira and Beltrán Tapia try to visit each classroom three times. "I knew I didn't want to do something where we just show up once, dump some info on the students, and never see them again. Creating these connections was super important to me, and having students excitedly greet us because we're back as we walk into the schools carrying the instruments is one of my favorite parts of this project," says Vieira.
Beltrán Tapia explains that his hope is to plant a seed with Capoeira in the Classroom: "When I started practicing capoeira my entire life changed. Capoeira opened so many doors for me, professionally and personally speaking. I want to share a bit of what capoeira has given me so far. I tell the students about my love for capoeira and encourage them to find something they are passionate about. It might not be capoeira, but I might be leaving them the idea to find something that moves them to pursue something that makes them happy."
To increase the impact of the project, Vieira and Beltrán Tapia developed a guide to distribute to students with information about capoeira, the instruments, the movements, and some of the songs students learn during these visits. There are currently two versions of the guide, one for grades 6-12, and another for K-5, which includes some coloring, drawing, and matching activities.
Teachers, administrators, and the U.S. capoeira community have shown a lot of interest in this project. Local teachers are very excited in welcoming Capoeira in the Classroom into their spaces. Kamilah Hawthorne, 5th grade teacher at East Columbus Elementary, said: "The students were always excited when they knew our capoeira visit was near! They were engaged throughout the entire session, from playing the instruments to learning the movements. Sometimes during independent study, I still hear some of the students humming the tunes of some of the songs they learned. It was a unique experience that I believe many will remember." The workshop was also documented by Westerville City Schools, which published about the visits to one of their schools in their newsletter. Additionally, Vieira and Beltrán Tapia were invited to participate in the Capoeira Experience podcast, which has over 1,500 downloads per episode, to discuss their experience.
Vieira and Beltrán Tapia have three more schools to visit this Spring, and hope to continue with this project and visit more schools in the upcoming academic year. If you would like them to visit a particular school, please reach out to Leila Vieira.
---