October 6, 2022
Engaging with Dancing with Devils
Image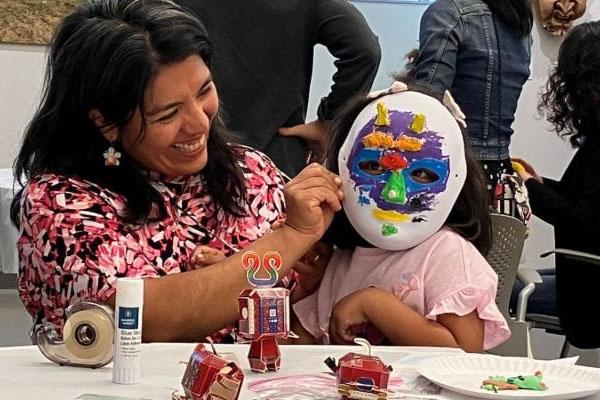 Description
Kawsay waqaychaqkuna has been busy this semester, installing and then engaging multiple audiences with the Dancing with Devils: Latin American Masks Traditions. Since the Faculty Preview on September 9, we have welcomed over 160 people from the OSU community and beyond to the exhibition! 
The Faculty Preview invited OSU instructors from across the university to visit the exhibition, talk to featured photojournalist Leonardo Carrizo – who has been an instrumental partner throughout! – and brainstorm curricular connections for their courses this fall. About 50 faculty members attended, along with many of the K'acha Willaykuna co-PIs. Kawsay waqaychaqkuna is thrilled that several have followed up with the Barnett Center to book the Collaboratory space and bring their students to the exhibition this semester.
On Wednesday, September 21, they held their Exhibition Opening in conjunction with the Wex's Open House, inviting OSU students and the general public to flow between the two events and experience the many exhibition-based opportunities for learning and engagement at the university. Here they welcomed about 50 people, including a number of students visiting the exhibition to extend their research projects! During this event they screened Carrizo's short documentary, Diablada Pillareña, which provides greater insight and context into the photographs on view.
They also held a public Open House on Sunday, September 25 specifically geared towards families, which was a huge success! Over 60 visitors of all ages attended, creating papier-maché masks (one young visitor made sure to include four horns after learning that four is the number that the most powerful diablitos have), play-doh miniature masks, and paper diablito figurines designed by master mask-maker Italo Espín. Still others took inspiration from the various masks on view to draw their own mask designs, and kawsay waqaychaqkuna Anais and Victor led the group in an abbreviated diablo dance through the room! 
In each of these events, visitors shared in knowledge exchanges with the curators and artist in a non-hierarchical dialogue that counters the traditional museum exhibition model in which visitors simply consume the information presented. Instead, visitors to Dancing with Devils were able to contribute their own insights and factual knowledge, sometimes through direct conversation with kawsay waqaychaqkuna and other times through post-it note comments left next to the wall labels! Kawsay waqaychaqkuna is grateful to the folks who are helping them further their knowledge and understanding of these mask traditions and invite people to continue in this exchange throughout the exhibition.
---