For this article, we asked Alyssa Guerini, one of our current Department of Spanish and Portuguese undergraduate student workers, to sit down with an undergraduate peer, Blake Shiplett, for a student-led interview. Blake is a 4th year Spanish & English double Major and President of the Spanish and Portuguese Club at OSU. In this interview he discusses his leadership role and planned events in the Spanish and Portuguese Club, as well as his experiences with Spanish while studying at OSU.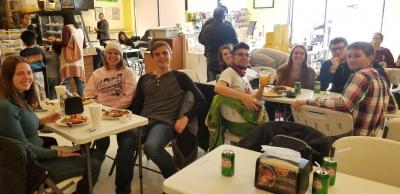 Can you talk about The Spanish & Portuguese Club and its organization of events, like "Sobre Mesa"?
"The Spanish and Portuguese Club is as much of a social organization as it is academic. Every two months the club organizes "Sobre Mesa", a dinner that is held at one of various Spanish and Portuguese restaurants in the Columbus area, such as Cazuela's and Estilo Brazil. The club also participates in the SPPO Day of the Dead Celebration. Being involved with these events helps strengthen connections between both students and professors." Blake hopes that in the coming years the Spanish and Portuguese Club can organize an event where faculty and lecturers can offer career advice to students in the department. "This would be a way for students to meet professors that they haven't had in class before!"
What other kinds of events does the The Spanish and Portuguese Club organize?
According to Blake, the Club also organizes conversation tables twice a week throughout the semester. At these conversation tables, students can come and discuss anything they want, as long as they speak in Spanish or Portuguese. "Some common topics that are discussed at these conversation tables include politics, what students are learning in class, and the weather," Blake says. The most interesting discussion he's participated in during these conversation tables was when the subject turned to the US's involvement in Iran. "Sometimes it can be difficult to communicate with different Spanish-speaking levels. For example, when a level 1 Spanish speaker comes, it can often be difficult to explain things in a way that they are able to understand. On the other hand, when native speakers come in, it is challenging for me to keep up." Although there is a wide range of skills, levels and interests, Blake encourages everyone to participate in the conversation tables.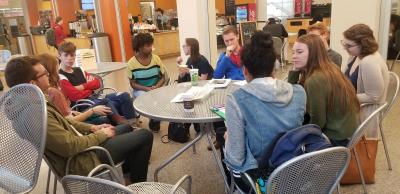 What other learning opportunities have you taken advantage of to use or improve your Spanish?                In addition to serving as President of the Spanish & Portuguese Club, Blake has been a RA for 3 years, and currently works for the House of Representatives as a Page. He volunteers his interpretive services at a local clinic that serves Spanish-speaking populations. The summer before his senior year, Blake had the opportunity to study abroad in Chile, where he took several classes and lived with a Chilean host family. He fell in love with the country's beauty and the friendly atmosphere. After graduation, he hopes he'll have the opportunity to live in Chile for a time; he is considering returning for mission work. Blake believes that the skills he has acquired through his experiences have prepared him to work with Hispanic communities long after he's graduated from OSU.
---