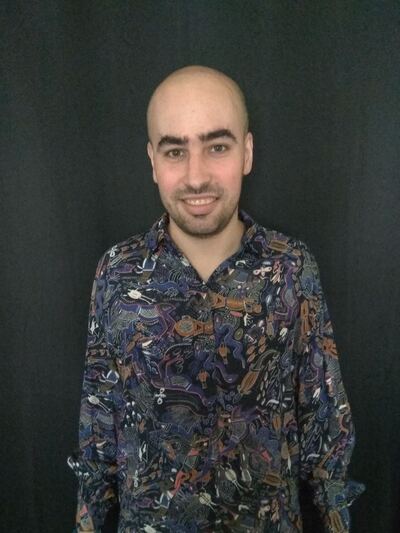 Areas of Expertise
Comics Studies
Visual Studies
Popular Culture
Gender & Queer Studies
Education
Ph.D., Iberian Studies, The Ohio State University (in progress)
M.A., Iberian Studies, The Ohio State University, 2020
M.A., Spanish, University of Kansas, 2018
B.A., English Philology, Universidade de Santiago de Compostela, 2013
Mikel Bermello Isusi is a 3rd year PhD student in Iberian Studies. Their research interests include, on the one hand, visual culture (comics, videogames, TV), and, on the other, queer theory and gender studies. On the Fall 2020 semester, they were awarded with a Graduate Research Grant from the Global Arts and Humanities so they can continue their current project: the first part explores gender and sexuality, and how these are represented in popular cultural products of the last 30 years. This project is complemented with a more creative side, in which they write their autobiography through other cultural products so they can explain how they personally relate to them, and how these products relate to their life to delve into gender and sexuality concerns. This is the beginning of more recent interests, which address how Memory and History intersect with Popular Culture ("lo popular") and the reification of social understandings of gender, gender identities and sexuality.
Their paper "'I'm Trapped In Here!' Gender Performativity and Affect in Emma Ríos's I.D." has recently been published in The Routledge Companion to Gender and Sexuality in Comic Book Studies (ed. Dr. Frederick Luis Aldama, 2020). Their MA Paper, "Questioning the Male Gaze in Antonio Altarriba and Kim's El arte de volar and El ala rota" has been accepted for publication in Against Translation: Global Comics, History and Memory (eds. Harriet Earle and Martin Lund, forthcoming).
Mikel also serves as the Vice-President for the Creative Writing in Spanish and Portuguese student organization and the Redesign Course Coordinator for SPAN 3403 ONL - Intermediate Composition.
People Filters: