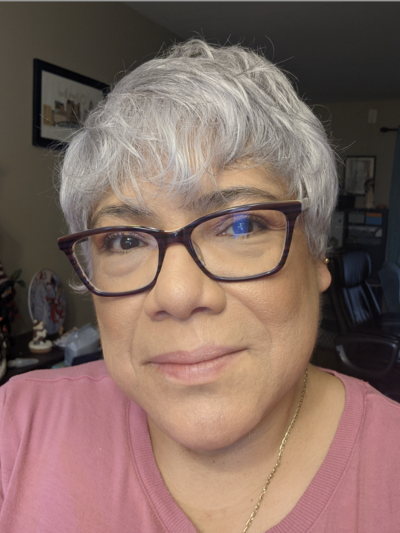 Eugenia R. Romero
Associate Professor Iberian Studies
244 Hagerty Hall
1775 College Road
Columbus, OH
43210
Areas of Expertise
Galician Studies
Migration Studies
Memory Studies
Education
Ph.D., in Spanish, Emory University
B.A., with Honors in Journalism, University of Texas at El Paso
After completing her undergraduate degree in Journalism at UT El Paso, and working for a few years as a Copywriter, Professor Romero went on to earn a Ph.D. in Spanish at Emory University. She joined the Department of Spanish and Portuguese in 2004 and, while formally trained in literary studies, her interests, both as regards scholarship and teaching, include music, museums, film, comics, social and political history, all in the context of modern Spain and, more specifically, Galicia. Her Spanish/Galician Literary and Cultural Studies interest informs her research and she has authored articles on topics ranging from amusement parks and cemeteries to emigration and contemporary representations of memory in Spain and Galicia's literature and culture. Professor Romero believes that the teaching and learning experiences are both an individual event and a social encounter, from which we cannot separate culture, language, literature and history. She has taught courses on topics such as Spain's peripheral regions, memory and history in contemporary Spain, and literary and cultural travel through the Iberian Peninsula with emphasis in visual and material cultures. Professor Romero travels frequently to the Cd. Juárez, México/El Paso, Texas area where her family lives, as well as to Santiago de Compostela where she learned the Galician language, and has conducted research on emigration, cultural and literary representations of identity, and the Galician understanding of national identity and culture.
Research and Publications
Her book Contemporary Galician Culture in a Global Context: Movable Identities (2011) takes migration as a trope and a cultural paradigm with which to consider Galicia's contemporary literary and cultural production.
Her current project deals with sanctuary rites and memory practices in the construction of a Galician identity and she expects to travel to Galicia to continue her research.
Fields of Specialization
Contemporary Iberian Literary and Cultural Studies
Galician Studies
Transatlantic Studies
Migration Studies
Music and Culture Studies
Memory Studies
Courses Taught
Graduate
"History, Memory and Fiction: Re-reading Contemporary Spanish Narrative" 
"From the Culture of Francoism to the Culture of the Dis-remembering, Passing through the Transition" 
"Issues/Questions of Gender/Genre: Sexuality and Writing in Spanish Literature since the XVIII century to the Present" 
"From the Center to the Periphery: Culture and Narrative of the Spanish Autonomies" 
"Spanish Civil War through the Eyes and Experience of Catalans, Basques, and Galicians (among others)" 
Undergraduate
"Senior Honors Seminar: Human Rights in Spain: From the Civil War to the Present" 
"Senior Seminar: Love and Sexuality: Gender Roles in Contemporary Spain" 
"The Culture of Francoism in Literature and Film" 
"Spanish Mosaic: Catalonia, Basque Country, Galicia and Andalusia"
People Filters: