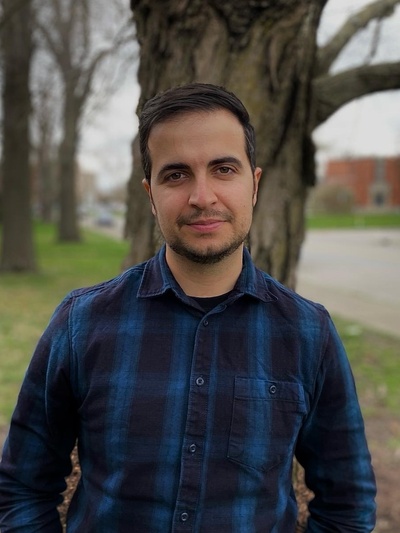 Fernando Sánchez López
Graduate Teaching Associate
Areas of Expertise
Contemporary Iberian Literary and Cultural Studies
Film Studies
Spanish Film and Television
Education
Ph.D., Iberian Studies, The Ohio State University (in progress)
M.A., Teaching, Universidad de Ávila, 2020
M.A., Spanish and Latin American Literature, Literature Theory, and Comparative Literature, Universidad de Salamanca, 2018
B.A., English Studies, Universidad de Salamanca, 2017
Fernando Sánchez López is a third-year student in the Iberian Studies Ph.D. program. More specifically, he is interested in film studies and comparative literature, with special application to contemporary Spain. His current research deals with the role of popular genres in Spanish film, especially after the financial crash in 2008. In particular, he is analyzing the current proliferation of Spanish neo-noir and how it might be a symptom of both the commercial need to use transnational modes of narration and the social discontent regarding political/institutional corruption in the country. 

Peer-reviewed articles:

Sánchez López, Fernando. "La corrupción política como fantasía neo-noir en El Reino (Rodrigo Sorogoyen, 2018)." Filmhistoria online, 32.2: 331-355, 2022.

Sánchez López, Fernando. "Sevilla en tinieblas: la hibridación genérica en La peste (2017-2019) como instrumento para mostrar la otra cara del imperio español.", Revista de ALCESXXI: Journal of Contemporary Spanish Literature and Film, 4, 315-337, 2022.

Sánchez López, Fernando. "Luis García Berlanga y la representación de La Guerra Civil española: La vaquilla (1985) como esperpento cinematográfico.", Doxa Comunicación: Revista Interdisciplinar de Estudios de Comunicación y Ciencias Sociales, 35: 1-14, 2022.

Sánchez López, Fernando. "'I am the one who knocks': el motivo del doble en Breaking Bad.", Tropelías: Revista de teoría de la literatura y literatura comparada, 35, 311-326, 2021.

Book chapters:

Sánchez López, Fernando. "El sentido del crimen: los hermanos Coen y el absurdo." Género negro sin límites, edited by Javier Sánchez Zapatero, Alex Martín Escribà, pp. 507-514, 2019.
People Filters: