June 17, 2020
The Bilingual Storybook Project Receives Ohio Hispanic Heritage Project Grant
Image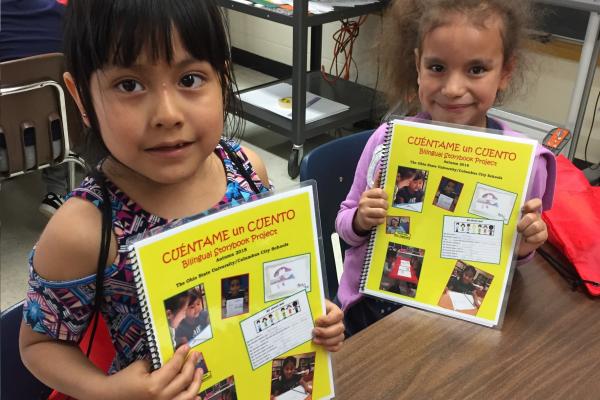 Description
The Bilingual Storybook Project has been awarded a grant from the Ohio Hispanic Heritage Project. The grant will allow the Bilingual Storybook Project to expand in significant ways over the next two years.
OSU Department of Spanish and Portuguese Senior Lecturer, Jill Welch, began this project with Columbus City Schools in 2012 after hearing about her daughter's student teaching experience at Salem Elementary School. Her daughter worked with Celeste Guglielmi, an English as a Second Language teacher, at the school. The children were learning to read and write in English, but many of their parents didn't speak English and couldn't practice with them at home. It was around the same time that Jill Welch's students were preparing to write stories in her writing courses at OSU. "I thought it would be cool if my students could write for (Celeste's) students in collaboration and it went from there," Welch explained in an interview with the Office of Outreach and Engagement.
The process begins with the elementary students receiving an "All about Me!" form where they answer questions about themselves and draw a picture of anything they'd like. Once Welch receives these forms from their teacher, her own students have a "match day" where they select the student who they want to write the story for. From there, they write a short story in both English and Spanish, incorporating the child they selected as well as their artwork. 
The college students assist with the delivery of the books to the children, allowing them to meet and read their stories together. For Welch, this is her favorite part of the project - seeing the students come together over something so impactful. In the Office of Outreach and Engagement interview Guglielmi also mentioned an added bonus from this project - it allows her jumpstart conversations about college with her young students. 
This project helps both young students and their parents feel a deeper connection to the learning going on within the classroom. Welch noted that this project also has a significant impact on her OSU students in the Office of Outreach and Engagement Interview. "It brings everything they have been learning in the classroom to a practical light and a social light. So many of them say this was the best part of the writing course. It teaches so much beyond learning how to write clearly." 
In past years, the Bilingual Storybook Project has partnered with Columbus City Schools and Groveport Madison Schools. With the help of this grant from the Ohio Hispanic Heritage Project, this fall a partnership will begin with Westerville City Schools and ESL teacher Kristin Potter will be the Westerville City Schools community partner.
---