If recent SPPO alum Brandon D'Souza could give one piece of advice to undergraduate students, he would say, "Take the courses that interest you, even if you aren't sure about majoring or minoring in them. You never know when you will find a new field of study that you're passionate about." Brandon, a triple major in Spanish, Evolution and Ecology, and Biology and a Film Studies minor never thought that he would major in Spanish. "At first I thought that I would minor in the language because I had some AP credits from high school. But as time went on, I came to really enjoy the courses and getting to know the SPPO faculty members in the department. I was able to find the space in my schedule to turn it into a major, so I thought, 'Why not?'"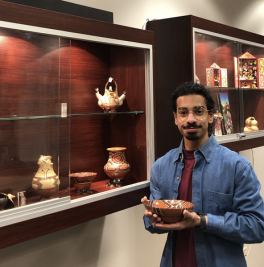 In addition to his Spanish major, Brandon worked as an undergraduate student curator for the Andean and Amazonian Indigenous Art and Cultural Artifacts Collection, housed in Hagerty Hall 255. The collection, overseen by Dr. Michelle Wibbelsman, includes Indigenous art and artifacts from the Andes and Amazonia that range from ceramics, to masks, to textiles, to musical instruments, and texts. Brandon began working as a student curator after taking SPAN 4515 with Dr. Wibbelsman. "During the class I had really enjoyed learning the material and her interactive teaching style. When she mentioned that a position had opened up for a student curator, I was excited to stay involved with the collection." Brandon's work involved organizing the collection and adding descriptions to the various pieces. He explained that working closely with the pieces inspired many discussions about how to best represent Indigenous cultures and how to improve curatorial practices. When asked which pieces he found most interesting, Brandon says that the ceramics always caught his eye. "I really enjoyed the different bowls, vessels and figurines. It was fascinating to learn about the cultural significance of the patterns on the ceramics and how they were used to contain and share knowledge." 
Brandon's work with the collection inspired his undergraduate thesis and digital humanities project, a digital multisensory resource where users can virtually manipulate a ceramic vessel from the collection and customize it by making decisions about colors and patterns to create a personal version of the artifact. The inspiration for the project came from discussions about better ways to engage audiences with the collection. "They're very fragile pieces; it wasn't until my second or third semester as a student curator that I felt comfortable touching the artifacts. I thought it would be really cool if audiences could form a stronger connection to the vessels by examining them personally and adding their own customization." The program also displays textual information, short video clips, and reflection prompts to teach users about the traditions surrounding the artifacts and the underlying cultural concepts of the Canelos Quichua community. 
Brandon collaborated with Professor Jeremy Patterson in The Ohio State University Advanced Computing Center for the Arts and Design for the project. "I didn't have any experience with the computer software used to develop the project, so Professor Patterson helped me learn to use Adobe Illustrator, Blender, and Surface Painter to create the program. It was a steep learning curve, but it was a great experience." Brandon hopes that his undergraduate thesis will benefit the Andean and Amazonian Indigenous Art and Cultural Artifacts Collection by helping the audience form a stronger bond with its artifacts. He also hopes that it will inspire others to include more Indigenous voices in their curatorial work and processes. "I want it to contribute to creating a more inclusive community where we are including people trying to learn about the art, people trying to organize and preserve the art, and the current artists who are building off of these techniques and traditions." Brandon received 2nd place in his category at the Denman Undergraduate Research Forum for his thesis project.
After graduating with Research Distinction from Ohio State in May, Brandon is taking a gap year and doing an internship with the National Institute of Health (NIH), where he's conducting medical research – a bit different than the research he had been doing with the Andean and Amazonian Indigenous Art and Cultural Artifacts Collection. He's currently in the process of applying for medical school and hopes to become a psychiatrist "As a student curator, I really came to enjoy interdisciplinary collaboration. I'm excited about the opportunity for interdisciplinary work related to the field of psychiatry, and I know that my experiences from Ohio State will be helpful for me as work toward becoming a psychiatrist."
Brandon would like to thank Dr. Wibbelsman, as well as Dr. Podalsky, Dr. Foulis, and Dr. Corona in the Department of Spanish and Portuguese. "They were all so supportive of me, always asking about the projects I was working on, how I was doing, and how my classes were going. I really appreciate all of the support they gave me as an undergraduate student at Ohio State and their continued support since I've graduated and started the next chapter."
Brandon encourages students who are interested in majoring or minoring in Spanish or Portuguese to take advantage of the department's resources and make connections with professors. "They're always happy to speak with students who are interested in learning language and they're all experts in their fields. Take advantage of the opportunity to meet with them and remember that they're there to help you succeed."
---
Dr. Michelle Wibbelsman contributed to this newsletter article to speak to Brandon's work as an undergraduate student curator for the Andean and Amazonian Indigenous Art and Cultural Artifacts Collection and his contributions to SPPO.
"Working with Brandon and other creative, highly-motivated students like him has been the highlight of my experiences at Ohio State!
Brandon was one of only four students chosen for the highly selective position of curator for Ohio State's Andean and Amazonian Indigenous Art and Cultural Artifacts Collection, which I supervise. He held this position for three years and received a Whitten Scholarship almost every semester in recognition of his excellent work. Curatorship of this collection involves cataloguing and curating displays, but also thinking through issues of cultural representation along with a critical analysis of potential pitfalls; considering challenges of audience engagement and accessibility across diverse publics; and exploring new technologies for academically-informed, broad public-facing exhibits. The collection works in connection with over a dozen units on campus including the Center for Latin American Studies, the Advanced Computing Center for the Arts and Design, University Libraries, the Division of Conservation Preservation and Digitization, STEAM Factory, and Ohio State's Global Arts and Humanities Discovery Theme. Beyond Ohio State, Brandon consulted with Indigenous artists and rigorously vetted information with experts in designated fields. Brandon truly embraced this opportunity to pursue his research interests, connect to resources across campus, invest in faculty-student research mentorships, develop his professional networks, and graduate with research distinction.
In spring of 2021 Brandon presented his research at the Denman Undergraduate Research Forum and won second place in his division for development of a digital interactive feature that educates and connects audiences to Indigenous cultural concepts. Most impressively, Brandon embedded indigenous epistemological approaches in the design of the digital program itself! Denman judges and members of his thesis committee were impressed with Brandon's intellectual achievement, his rigorous work ethic, and his poise in tackling technical challenges and learning curves outside of his area of expertise. Aside from that, we all felt Brandon was a real joy to work with!
Brandon's passion about his research and his dedication to his studies are exemplary.  His insatiable intellectual curiosity and his ability to bridge fields like Biology, Spanish, Film Studies, Andean and Amazonian Indigenous Studies, Curatorial Practices, and Digital Humanities are inspiring. He truly embodies the type of well-rounded scholar and individual SPPO and Ohio State strive to foster. As one of his professors, it is truly rewarding to see students like Brandon, who are exceptionally skilled, resourceful, and thoughtful blossom into young professionals!"
---