The Department of Spanish and Portuguese has felt the effects of the COVID-19 pandemic in more ways than one. In addition to transitioning undergraduate courses online, graduate courses have also moved to a virtual format. SPAN 8893: Hispanic Linguistics Colloquium and SPAN 8894: Literatures and Cultures Colloquium are two graduate courses that focus on the presentation of research, provide professionalization opportunities for students in the given field, and features presentations by SPPO students and faculty where they can showcase their work or work-in-progress. Throughout the semester, specialists from outside OSU give guest lectures, followed by Q&A sessions. These presentations offer the opportunity for SPPO graduate students to learn about current research being done in their areas of study and establish connections with other scholars outside of OSU. The colloquia also feature workshops that will help students as they transition from graduate school into their careers.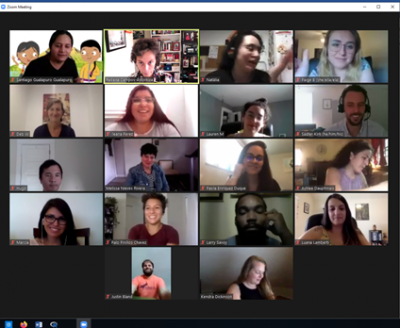 Dr. Rebeka Campos-Astorkiza, the SPAN 8893 colloquium coordinator, facilitated the transition of the course to an online format for the Autumn 2020 semester. Despite the changes, she is pleased to have seen so much involvement from her students. "It's interesting; this semester we had colloquium events nearly every Friday – many more than we have during a typical semester. I witnessed how much the graduate students enjoyed this semester's colloquium. You can tell that it provided them with a sense of community during a time that felt very isolating."
One of the benefits of moving the 8893 and 8894 colloquia to an online format was the ability to invite guest speakers from all over the world. Co-coordinator of the SPAN 8894 colloquium, Dr. Lúcia Costigan stated that, "It was a pleasant surprise to see that this transition made it so easy to have guest speakers from around the world contribute to the course. It allowed us to invite more scholars from different places and backgrounds – an opportunity we would not have had if we were having the colloquium events in person." The transition to the online format also made it easier for the students from both courses to participate in joint colloquium events. The colloquium coordinators all believe this was a wonderful benefit of transitioning online. "We always used to try to do a few events with students in 8893, but in the Autumn 2020 semester they had the opportunity to engage more frequently in the joint events," Dr. Jonathan Burgoyne, co-coordinator of SPAN 8894 explained. The coordinators hope that they can arrange more opportunities for students from both courses to interact in future semesters.
Dr. Burgoyne noted that transitioning the course online also created an opportunity for the graduate students to be more involved in the organizing of colloquium lectures and workshops throughout the semester. "We asked students to go to six different lectures or workshops throughout the semester and write reports on what they observed and the events' connections to their own research. With everything being virtual, the students took it upon themselves to seek out their own lectures and workshops to attend, many times selecting events that were held outside of OSU. It allowed students to be proactive and prepare for their future roles in academia."
The colloquium coordinators hope to incorporate some of these online elements to their SPAN 8893 and SPAN 8894 courses in the future, regardless of whether the courses are online or in-person. "The virtual presentations will be very useful moving forward, because it allows us to connect with people in different parts of the world very easily," stated Dr. Lúcia Costigan. Dr. Rebeka Campos-Astorkiza wonders if the virtual presentations will become more commonplace moving forward. "I am sure we will continue to invite guests for in-person events once the pandemic is over, but I wonder if those types of invitations will become a bit less common. Perhaps, future in-person lectures and presentations will be reserved for larger events, and the virtual lectures and workshops will become a more normal part of our courses." In the future, Dr. Jonathan Burgoyne would like to see graduate students continue to independently seek out events. "The pandemic and the virtual colloquium this past semester helped us drive home the idea that they can be proactive and find their own lectures and workshops to attend. It's great practice for their future in the field."
---