While the COVID-19 pandemic has created many new obstacles for university instructors across the country and throughout the world, Dr. Eugenia Romero made the most of her Autumn 2020 semester courses. Her SPAN 4567 and 4567H courses: Spanish Mosaic: Catalonia, Basque Country, Galicia, and Andalusia were transitioned to an online, asynchronous modality. In that modality, there were no scheduled, weekly class meetings; rather, students worked through the material independently and, in some cases, in small groups with other students. Throughout the semester, students were responsible for watching online lectures, completing lesson checks, answering essay questions, and fulfilling the oral language component on Carmen (the university's on-line platform).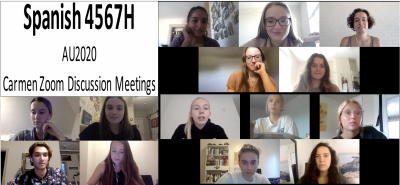 To get students speaking in Spanish as much as possible in the asynchronous format, Dr. Romero used different approaches in the two courses. The SPAN 4567H students met bi-weekly via Zoom in small groups, while the 4567 students responded to specific prompts through Flip Grid - a technology that allows students to produce and submit video recordings. "This semester has really been a learning period, and after receiving feedback from the students, I think the Zoom meetings have been the most successful. Moving forward, I think I will implement weekly Zoom meetings among the students, as it offers more opportunity for discussion."
Dr. Romero noted the challenges that she faced in transitioning her in-person course to an online format. "It was hard at first. But I think the key to transitioning an in-person course into an online format is the Carmen setup. You have to make Carmen work for you; otherwise things can quickly become disorganized." In addition to utilizing Carmen to its fullest potential, she had to rework her in-class lectures into a video format. "I have experience with technology. In fact, my B.A. is in graphic design, so I already had some skills and I try to stay on top of advancements in technology and media. But I still had to figure out which programs worked best for my courses, which was very time consuming and took a lot of work."
Shortly after the semester began, Dr. Romero realized she hadn't considered how she could regularly interact with her students in these asynchronous classes. She had created the opportunity for students to practice their speaking and comprehension through the use of flip grids and small Zoom meetings between classmates, but she wanted some instructor-student interaction as well. "I wanted to be able to regularly connect with my students. I wanted to ask them questions about the material we covered, participate in discussions with them, and occasionally offer language corrections." She decided to implement some small 'cafecitos' (virtual coffee hours) throughout the semester, where students could join her for discussions about the course material. "The students told me that they really enjoyed the meetings and that it was a nice way to interact with myself as well as their classmates."
In addition to the 'cafecitos' during the semester, Dr. Romero also implemented another unique element to her course: mental health assignments. She created specific assignments that focused on mental health as an additional way to check in with her students. "It's something instructors need to be paying attention to in their courses. I don't want to add to the stress that everyone is feeling right now." The students were assigned tasks such as, "Take a picture of yourself doing a self-care activity and answer the following questions. 1) How did you feel before doing the activity? 2) For how long did you do the activity? 3) How do you feel now?" Dr. Romero says the students expressed how much they appreciated her concern for their mental health after completing these types of activities.
Despite the chaos and hardships faced throughout 2020, Dr. Romero is encouraged by her students' engagement in her 4567 and 4567H courses this past semester. "I actually feel like the students were much more engaged with the course material than usual! I still miss the everyday interactions I had with my students in the face-to-face format, but I was very happy to see the students' dedication to the course in the online, asynchronous format."
Dr. Romero's SPAN 4567 course will be offered again in the Summer 2021 semester. She will also be teaching SPAN 4564: Spanish Culture During Francoism asynchronously in the Spring 2021 semester. The department is thankful for Dr. Romero's dedication to her students and the wonderful efforts that has made during the COVID-19 pandemic to create effective, engaging online courses for her students.
---